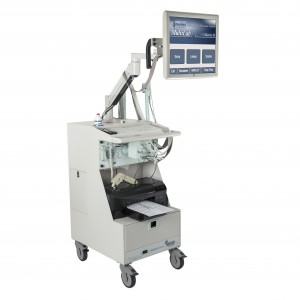 The World Standard in Peripheral Vascular Testing with Infectious Disease Control
MultiLab Series II ERGO-IDC Brochure
The Unetixs' MultiLab® Series II ERGO IDC peripheral vascular diagnostic system has become the world standard in peripheral vascular diagnostics.The Multilab meets the rigors of everyday use. Designed to perform all standard noninvasive physiological arterial and venous studies, it is ideal for the vascular lab as well as the cardiologist's, vascular surgeon's or other physician's office.
Calibrated pulse-volume recording (C-PVR®) provides definitive-quality waveforms. By keeping track of the volume as well as the pressure in the recording cuff, Unetixs put the volume back in pulse volume recording!  This ensures much more accurate and reproducible waveforms for original diagnostic and post-interventional follow-up tests.
Dual-channel photoplethysmography (PPG) incorporating easily applied PPG clips speed your studies by providing dual-channel pressure testing of segmental arteries or digits. Full segmental studies can be performed in 20 to 25 minutes. The software was designed with touch screen in mind, so the large, easily read touch controls are quick, convenient and highly functional.
As popular as our large, easy-to-use touch screen controls are, users also love our remote control. It fits easily in the hand and has a magnetic back to keep it in place when not in use.
Integral to the system are easily customized test protocols and reporting features – with programming handled for the customer by the Unetixs representative.  Our service department keeps records of all customer-customized procedures so service procedures remain efficient.
The MultiLab Series II ERGO IDC is compatible with the digital imaging and communication in medicine (DICOM) and picture archiving and communications system (PACS) standards. Among the DICOM/PACS benefits is your ability to minimize transcription errors with a Modality Work List that populates the system with demographic information for the day's patient load. You also can coordinate patient care with colleagues by using Unetixs' VascuLink networking and reporting software to transmit the data across the hall, across the state or across the country.
Features
Physiologic
The world standard for noninvasive physiological arterial and venous studies, incorporating:

Calibrated dual-channel pulse volume recording (C-PVR®)
Dual-channel photoplethysmography (PPG), using easily applied digit clips*
8 MHz bi-directional TruDop® Doppler probe*
5 MHz bi-directional TruDop® Doppler probe*

Definitive quality waveforms for original diagnosis or post-intervention follow-up
Extensive reporting capabilities
Easily custom-configured test protocols and reporting
High-quality, full-page color reports and waveforms required for Medicare reimbursement
Compatibility with DICOM SR with PACS standards
*One 8 MHz and one 5 MHz Doppler probe as well as two PPG sensors with digit clips are standard with each system.
Instrument
High-resolution 19" inch flat touch-screen color monitor on a Axis mount for ergonomically correct usages
Touch Screen and Keyboard are moisture-proof for ease of disinfection
Large, easy-to-read touch-screen controls
Secure magnetic keyboard that is back lit with built in touch pad
Custom-designed industrial central processor
High-end ink-jet color printer
Full-size keyboard
Ergonomic full-function, wireless remote with magnetic back for easy storage
Windows 7 operating system
Multi-port Auto Manifold™ with:

Soft, lightweight ribbon hoses with color-coded, numbered tips for easy cuff connection
Pressure cuffs (Choose one of two cuff-sets or mix and match cuffs from 14 assorted sizes)
12-cuff simultaneous hookup
Automatic cuff inflator measures air-volume required to bring cuffs to correct pressure on consistently wrapped cuffs

Modality work list ready with DICOM SR with PACS compatibility
Two PPG probes with digit clips
8 MHz and 5 MHz bi-directional TruDop® Doppler probes(one each)
Custom-designed cart includes:

Built-in hospital isolation module with main power switch
Latching storage drawer
Printer shelf
Tower CPU compartment
Four-way locking casters with True Track
Base Size: 20" W x 24" D x 40" H (not including monitor height)
Weight: approximately 155 lbs