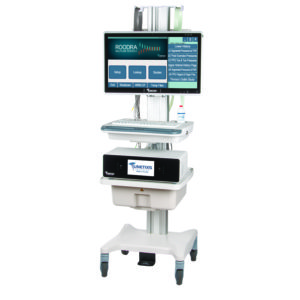 State of the Art Physiologic Vascular Diagnostics
The Unetixs' MultiLab® Series II ROODRA offers demanding vascular professionals all the advantages of a contemporary platform while retaining Unetixs' familiar ease of use.

Based on the technologists needs, ROODRA offers up-to-date technologies that define a new standard with a sleek new look. Unetixs' legendary short learning curve and ease of use remain, with exicting new features and software upgrades.
Incorporating an all-in-one Windows 10 computer system with a 24″ screen offering antimicrobial and moisture resistance that is unparalleled.
Physiologic
The world standard for noninvasive physiological arterial and venous studies, incorporating:

Calibrated dual-channel pulse volume recording (C-PVR®)
Dual-channel photoplethysmography (PPG), using easily applied digit clips*
8 MHz bi-directional TruDop® Doppler probe*
5 MHz bi-directional TruDop® Doppler probe*

Definitive quality waveforms for original diagnosis or post-intervention follow-up
Extensive reporting capabilities
Easily custom-configured test protocols and reporting
High-quality, full-page color reports and waveforms required for Medicare reimbursement
Compatibility with DICOM SR/PACS standards
*One 8 MHz and one 5 MHz Doppler probe as well as two PPG sensors with digit clips are standard with each system.
Instrument
High-resolution 24" touch-screen all-in-one
Large, easy-to-read touch-screen controls
Custom-designed industrial central processor
Full-size sealed and backlit keyboard
Ergonomic full-function, wireless remote with magnetic back for easy storage
Windows 10 operating system
12-port Auto Manifold™ with:

Soft, lightweight ribbon hoses with color-coded, numbered tips for easy cuff connection
Pressure cuffs (Choose one of two cuff-sets or mix and match cuffs from 14 assorted sizes)
12-cuff simultaneous hookup
Automatic cuff inflator measures air-volume required to bring cuffs to correct pressure on consistently wrapped cuffs

Modality work list ready with DICOM SR/PACS compatibility included
Two PPG probes with digit clips
8 MHz and 5 MHz bi-directional TruDop® Doppler probes(one each)
Height Adjustable Cart:

Latching storage drawer
Four-way free spinning wheels, with 4 locking wheels
Base Size: 20" W x 24" D x 40" H
Weight: approximately 120 lbs