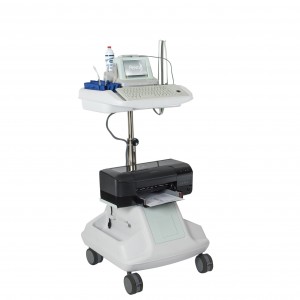 Peripheral Vascular Diagnostic System
The Unetixs Revo 1100 peripheral vascular diagnostic system enables you or your technologist to perform noninvasive, simultaneous bilateral ankle (or toe) brachial index (ABI or TBI) tests. The system's dual-channel photoplethysmography (PPG) capability, incorporating easily applied PPG probes and digit clips, enables you to measure global ABI and TBI pressures without holding a probe. Its two-channel calibrated pulse-volume recording (C-PVR®) capability enables you to obtain bilateral waveforms simultaneously. Complete both PPG and C-PVR® tests within five minutes.
Or spend a few minutes more for "vessel specific" ABI studies for more in-depth diagnostics or improved post-interventional follow-up. Obtain individual pressures from the dorsalis pedis and posterior tibial arteries, or detect reduced blood flow with Unetixs' virtually unbreakable TruDop continuous wave Doppler probes (available in 8 MHz and 5 MHz models).
Our Calibrated Pulse Volume Recording (C-PVR) creates consistent and reproducible waveforms that are diagnostically correct, and the system's full-page color printer ensures they are easily read. The waveforms make each patient's diagnostic test reimbursable under Medicare CPT Code 93922.
This system is ideal for internists, podiatrists, endocrinologists and primary care single-physician or group practices, mobile services, clinics or as an addition to cardiologists' or vascular specialists' offices. Perform a test, review the report, send it to a vascular lab or specialist to review and interpret, and have it returned using Revo Reporter and VascuLink® networking and reporting software. The system's speed makes it affordable even for a single-physician practice. Just two studies a month will cover the monthly payment on a 60-month lease.
Features
Physiologic
Standard, simultaneous bilateral ABI/TBI studies within 5 minutes, incorporating:

Calibrated dual-channel pulse volume recording (C-PVR®)
Dual-channel photoplethysmography (PPG)

Definitive quality ABI and TBI waveforms required for Medicare reimbursement
Full-page color reports
Optional 8 MHz and 5 MHz bi-directional TruDop® Doppler probes
Instrument
Compact, portable custom-engineered computer console
Embedded high-resolution touch-screen color monitor
Large, easy-to-read touch-screen controls
Integrated auto-sequencing, four-port blood pressure cuff connections
Four well-marked hoses (left/right, arm/ankle)
Windows 7 operating system
Internet and intranet capabilities
Color ink jet printer
Ultra-sensitive PPG probes with easily applied digit clips
Pressure cuffs (Choose one of two cuff sets or mix and match cuffs from 14 assorted sizes)
Options
Internet and intranet capabilities provided through VascuLink networking and reporting software
8 MHz bi-directional TruDop® Doppler probe
5 MHz bi-directional TruDop® Doppler probe
Custom-designed, pedestal-mount, easy-roll cart with:

Gas-assisted adjustable-height (13" vertical expansion)
Console stand
Printer shelf
Accessory holders
Revo 1100 units ship with VascuLink reporting software
VascuLink Brochure
VascuLink Informational Video
Our advanced VascuLink networking and reporting software is included with the Revo 1100 and is optionally available with any Unetixs noninvasive vascular diagnostic system. Our software enables you to transmit patient studies to a vascular specialist across the hall, across town or across the country to review and interpret test results.  The interpreter then can utilize the VascuLink reporting and networking software to respond with a final report.
Create a community-wide PAD program utilizing the Revo® 1100 peripheral vascular diagnostic system in the primary care setting (general practice, internal medicine, podiatry offices) and MultiLab® LHS or 2CP peripheral vascular diagnostic system in the vascular center. VascuLink networking and reporting software allows the primary care physician to transmit the results of a five-minute ABI study to the vascular specialist with the touch of a button.  The specialist can read the study, create and transmit the final report back to the originating office, and make appointments with the appropriate patients for further testing and intervention.
The patient data and report can be further integrated into a PACS or DICOM system for long-term storage and review.
Available in Two Forms
VascuLink networking is available in two forms. For those vascular centers that maintain their own servers, the information can be sent directly to that server. A Web-based "hosted" option is available as well for a monthly subscription fee based on volume.